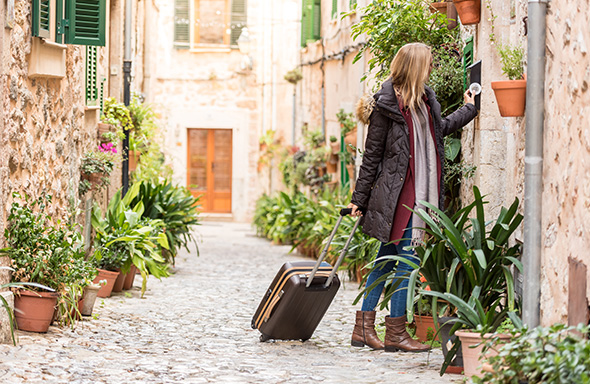 When you own a B&B, it's easy to fall victim to the status quo. You might be a successful enterprise that has relied on the same business strategy for decades, so you may not think that you need to improve.
However, by continually evaluating your B&B management procedures and policies, you will be able to improve the guest experience at your property.
These are five suggestions for improvements you could make at your B&B:
Offer flexible check-in and check out times
While travellers expect traditional check-in times during the late afternoon and check out times in the late morning, this is not always convenient for the modern guest. As a B&B operator you have the unique opportunity to offer personalised service and allow guests to select a check-in and check-out time that works for them.
Guests will appreciate this flexibility and will remember the convenience of this service when they visit again.
Prioritise the first impression
People often book rooms at B&Bs because they want a more authentic, home-like atmosphere during their stay. This makes the first impression very important. You can easily impress your guests by having fresh flowers in the lobby, or offering warm cookies upon their arrival.
The first impression is almost always a lasting impression, so you will want to make sure every guest is greeted in a warm and welcoming manner.
Have extra supplies ready for guests
Busy travellers are bound to forget something, and this can be both frustrating and inconvenient for them. When you have supplies on hand for your guests to use or borrow, you will significantly improve their experience. You may want to consider purchasing extra toothbrushes, toothpaste, deodorant, feminine supplies and phone chargers.
Many B&B owners place these extras in a common area so that guests can access what they need without having to ask, which can minimise discomfort and embarrassment.
Add local resources to your common areas
As the innkeeper, you have the opportunity to be the ultimate tour guide of your destination.
Your guests will rely on you for expert dining recommendations, for insight into the best activities and for information on the region's history. In outdoor gardens and common lounges, you may want to consider adding novels by local authors, tour guides, and brochures that advertise discounts and promotions for nearby activities.
Use technology to enhance the guest experience
Technology should not be used to replace personal interaction with your guests, but you can easily invest in technology that complements your B&B management strategy.
A property management system that features an online booking engine, for instance, allows your guests to book directly with you online. A mobile app allows your guests to interact with your brand in a way that is convenient and useful.
The hospitality industry is an innovative and exciting industry, and there are always new ways to improve your property management strategy.
The post 5 ways you can change the way you run your B&B for the better appeared first on Front Desk & Reservation System for Small Hotels – Little Hotelier.